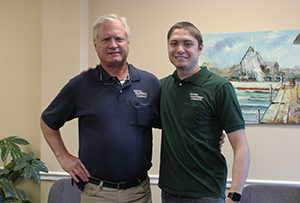 My name is Gary Temming and I've been in the dental business since 1978. My experience and expertise are with dental equipment sales, installation and service. In addition to, office design and office mechanical layout.
After leaving a previous dental company 21 years ago, I decided to branch out on my own, starting the Dental Equipment Company, Inc. Here at DEC we strive to give responsive, knowledgeable, and above all, courteous service, along with a personal one-on-one experience.
Our goal is to help you operate a successful and stress-free practice. So, if you're in need of prompt service, new equipment, or an entirely new office, we're here to help.  Please feel free to contact us with all your dental needs. Like I always say, there is no such thing as a dumb question in a dental office.
We are pleased to introduce our newest member to the team, my son Mitchell Temming. Mitchell graduated from the University of Missouri-Columbia in 2015 with a degree in biological sciences. With all of the new dental technology coming about, he is training to become our digital and cone beam specialist. He's now excited to be a full-time member and working with all of our clients!